ILLUSTRATION BY THOMAS DURHAM
As today marks the tenth anniversary of Jackass 3, we examine the history of an unlikely and chaotic franchise.
It's a little known fact that the Jackass team were actually brought together as journalists long before they flew downhill in a giant shopping cart together. As regular and guest writers for cult magazine Big Brother, Jeff Tremaine, Johnny Knoxville, Dave England, Chris Pontius and Rick Kosick contributed anything and everything to the extreme sports magazine throughout the 1990's. Then in 1999, Knoxville pitched an idea to art director Tremaine which become the basis of the now iconic TV show. Wheels then began to turn on an idea that would come to define a generation and change television forever.
Their brazen outlandishness in print, exemplified by the infamous "How to kill yourself" article, would transition neatly to television. In 20 minute episodes the Jackass crew tried everything from impossible acrobatic stunts, firework powered rollerblades, provocative public nudity, and tested self-defence equipment on each other. Further spicing things up, director Tremaine added professional skateboarder Bam Margera, qualified clown Steve-O (Stephen Glover) and Jason Acuña (Wee Man) to pad out his already eccentric team. Immediately as MTV aired the show it blew up. As politicians and parents clambered to have it censored and pushed into late night airings, this only increased its profile and influence. MTV had quite unknowingly captured lightning in a bottle.

After 3 televised seasons which ran from 2000 to 2002, Jackass were granted what was supposed to be a feature film swan song, as TV was becoming increasingly strict for their high profile antics and the cast generally felt their 15 minutes of fame was coming to an end. What they created was far from art – the final skit featured Ryan Dunn playing dumb as an X-ray appointment reveals a toy car lodged in his rectum – but high society was never their target demographic. Jackass: The Movie, partly shot in Tokyo as Japanese law doesn't require consent to film the public, made almost $80m on a $5m budget. Very quickly a sequel found itself in demand and the entourage were catapulted into fame and pop culture relevance.
Jackass no doubt played a role in YouTube's early role as the home of pixelated phone camera stunts. The internet offered a quick and blurry high, but Jackass offered a (relatively) polished version of what teenage boys the world over tuned in post-watershed in their millions for. They kickstarted an entire genre of extreme television including Wildboyz, Viva La Bam, and Nitro Circus in the USA, and The Dudesons (Finland), Dirty Sanchez (UK) OGAGS (Phillipines) and Tokyo Shock Boys (Japan) to name but a few of the international successors, never mind the thousands emulating stunts in their own back gardens for audiences of friends.

Upping the ante, Jackass Number Two was released in 2006 and similarly made a fortune. By this point, Jackass was a household name and though the initial novelty of their antics on the big screen had worn off, they had a much bigger audience and profile for their second outing. A further four years later and like many other forms of entertainment at the time, Jackass would look to the world of 3D for its third instalment. The use of Phantom high-speed cameras to capture Ehren McGhehey being shot by paintballs and Acuña being slapped by a huge fish for the bizarre opening sequence were somehow more entertaining in slow motion, and Jackass 3 skipped merrily along to the tune of $171m on a $20m budget.
These three theatrical releases and three more straight-to-dvd releases later, by the early 2010s Jackass found itself an unlikely franchise. By changing very little of their ethos but upping the budget and stakes each time, they had grossed almost half a billion dollars, landed a video game tie-in and millions of dollars more in merchandise deals featuring their iconic skull and crutches logo. But at the peak of their fame in 2011, the death of Ryan Dunn in an alcohol fuelled car wreck would shock the entire community. Jackass 3.5, released a week before his death, remains the most recent project from the complete entourage.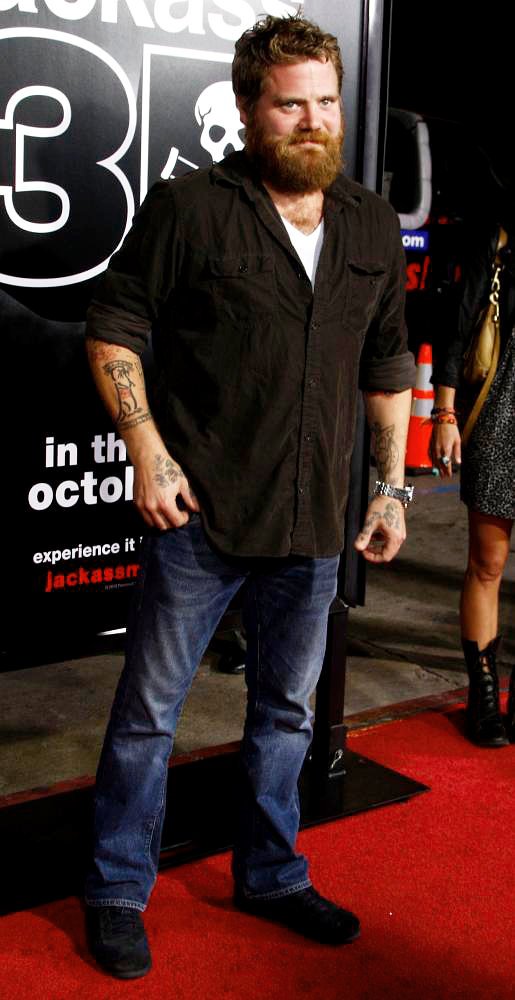 From there, the crew largely split for the better part of a quiet decade since. Johnny Knoxville returned to the franchise in a roundabout way with a solo performance in Bad Grandpa and has primarily worked in film production since. Producer Spike Jonze has rather ironically become a critically acclaimed screenwriter, producer and director, receiving 5 Oscar nominations in 2013 for Her. Director Jeff Tremaine has found a niche as an extreme sports director, and recently finished The Dirt for Netflix. For the most part, those behind the camera have faired very well, arguably as the only qualified professionals that were ever on set.

Interestingly too, some of those actually on camera have become rather zen in the decade since. Steve O is now twelve years sober, vegan and an animal rights activist. McGhehey runs a skate shop in Portland, Oregon. A few have diversified into acting, comedy or broadcasting and some have focused on running private businesses. Bam Margera has proven to be the most troubled, battling alcoholism and drug addiction on and off since his best friend Dunn's death. While 2018's Action Point starring Knoxville and featuring Chris Pontius – a true story about a disastrous theme park shows that some were yet to leave the party mentality; most had grown up, wiped the beer from their lips and settled for something less dangerous – and certainly easier to find insurance for.

That was until late 2019, when Paramount surprisingly announced production on Jackass 4. But even before Covid-19 shut down film production, details were sparse at best as to who would be involved or whether it would just bear their name and star a new generation. Eventually in August, Acuña confirmed in an interview that the original cast and crew had all quietly reunited and were indeed shooting together before the world fell into lockdown. If his stories are to be believed, the fourth instalment will be another substantial gearing up, as the team – very aware of their age, are hoping to make up for time lost and to prove cynics wrong, who say they're too old for their antics.
The culture that Jackass created is well and truly a thing of the past, drastically different to the squeaky clean social media world of 2020, but their legacy remains a time capsule for reckless fun and a snapshot of the entertainment world in less self-conscious time. Is Jackass 4 riding the coattails of a massive nostalgia train? Absolutely. But In an age where doing ostensibly nothing with 100k instagram followers amounts to being famous, the idea of someone physically putting their body on the line for entertainment seems comparatively noble. Ultimately, Covid-19 pending, as long as their profit margins are as significant as they have been in the past, Jackass 4 will be a welcome return for both a generation of recently domesticated thirty-somethings and the pockets of those bankrolling their quite literally, cheap fun.